by The Rhodes Firm
Magistrate Resigns
Mecklenburg County's chief Magistrate Resigns is resigning after criticism by the police chief that his new bail policy lets repeat violent offenders get out of jail too easily.
Khalif Rhodes said at a news conference Friday that he is stepping down effective Friday to return to private law practice.
"I want my legacy to say that anybody that ever appeared in front of him did not see even an ounce of impropriety, that he was always fair and impartial," Rhodes told reporters, according to video of his remarks by multiple TV news stations. His wife, Courtney Rhodes, stood beside him at an outdoor podium.TOP ARTICLES Victim tumbles to death on I-85 in Charlotte after losinggrip on car door, cops say
Criticism over his attempts to reform bail policy at the county jail had nothing to do with why he resigned, Rhodes said.
Rhodes also chairs the Black Political Caucus of Charlotte-Mecklenburg. He said Friday that he intended to resign in July but held off a little longer after discussing crime and repeat offenders with Charlotte-Mecklenburg Police Chief Kerr Putney.
In June, Putney criticized the release of people from the county jail who were charged with serious violent crimes, the Observer reported at the time.
Putney told reporters in June that electronic monitoring — GPS-equipped ankle bracelets often assigned to people who've been let out of jail on bail — is a purely reactive way to supervise them. Such defendants should not be released on bail, he said.
On Friday, Rhodes refused to criticize Putney. "I'll never take an opportunity to throw anybody under the bus," Rhodes said, adding that CMPD "is doing an excellent job within their house of trying to coordinate and find ways to fix this problem."
Rhodes said the new bail policy isn't to blame for violent crime.
"A traditional driver of violent crime is access, or lack of access to education, lack of access to opportunity," he told reporters Friday.
"It's extremely easy to talk about safety," Rhodes said. "It's really hard to talk about justice, because justice isn't one sided. You have to ensure that you care about justice for both victim and defendant, and it's not easy to do that."
Since the new bail policy in March, Mecklenburg County judges have had to decide whether to keep a person locked up before trial — and only cash bail can be used if they do, The Charlotte Observer reported at the time.
According to criminal justice officials, that policy mirrors a longtime but unenforced state law: Defendants facing non-capital charges must be released awaiting trial — unless ruled a flight risk or danger to others, the Observer previously reported.
"This tries to make sure that we as a county are aligning ourselves with what the statute says," Rhodes told the Observer at the time.
Courtney Rhodes posted on Facebook that she was proud of her husband's service as chief magistrate.
"He will surely miss serving as Chief Magistrate but he will continue to serve the community," she posted.
An interim chief magistrate will likely be selected from the 20 other county magistrates, Rhodes told reporters. Attempts by the Observer to reach Rhodes for further comment after the news conference were unsuccessful.
In a statement to Observer news partner WBTV on Friday, Putney said he didn't know Rhodes "well for very long, but I appreciated his willingness to listen, debate and to roll up his sleeves to attack the issues of equal accountability for all justice system professionals to better serve the community. I personally wish him well in his future endeavors."
Corine Mack, president of the Magistrate Resigns NAACP, told the Observer on Saturday that "the bail process has not worked for black people for centuries." She said leaders must solve their differences and work together to rid the criminal justice system of inequities.
by The Rhodes Firm
By WBTV Web Staff| September 6, 2019 at 1:24 PM EDT – Updated September 6 at 7:17 PM
Chief Magistrate Resigns
Chief Magistrate Resigns
CHARLOTTE, N.C. (WBTV) – The Chief Magistrate of the 26th Judicial District in Mecklenburg County announced his resignation on Friday, citing that he planned to join the private sector. Check detail Chief Magistrate Resigns
Khalif Rhodes had served as a magistrate in the court system since 2015 and was named the Chief Magistrate in 2017.
In recent months, the local court system has been under public scrutiny following repeat offenses involving criminals who had been released on bail from custody.
BREAKING: Chief Magistrate Khalif Rhodes just announced his resignation.
512:46 PM – Sep 6, 2019Twitter Ads info and privacy See Bria Bell's other Tweets
Rhodes defended his position in the press conference, however, noting that there were other factors not related to a person's release status which have contributed to a rise in violent crime.
Defending the release of certain offenders, Rhodes explained how, 'we have a decision-making framework (when it comes to who gets released)' and discussed how that framework considered the risk of each offender of not returning to court before any decision was made.
In closing, Rhodes thanked the District Attorney, Sheriff McFadden and CMPD Chief Putney for their insights and discussions with him during his tenure.
by The Rhodes Firm
Charlotte's 40 Under 40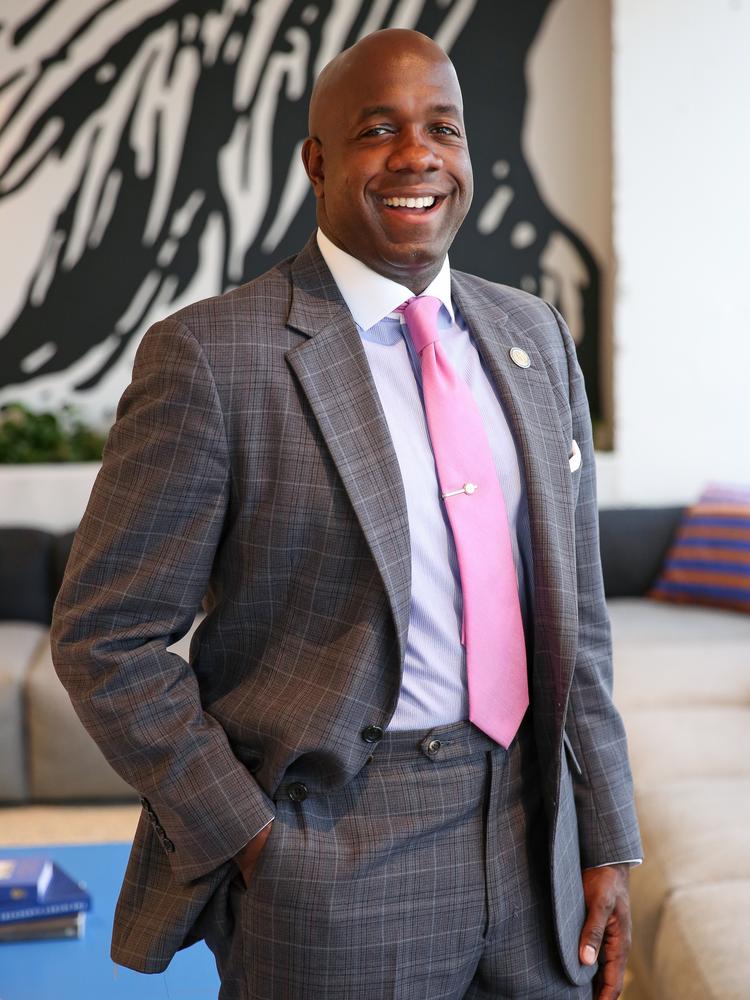 IN THIS ARTICLE
40 Under 40Topic
AwardsTopic
Career & WorkplaceIndustry
More
May 10, 2019, 5:00am EDT
Khalif J. Rhodes is Chief magistrate of the 26th Judicial District, North Carolina Administrative Office of the Court.